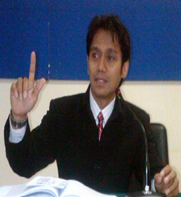 Dr. Muhamad Aras, S.Pd.,M.Si
Ketua Program Studi S2 Magister Ilmu Komunikasi (MIK)
Key Areas:
Advanced Theory of Communication, Organization Communication, and Research Methodology for Communication
Email:
maras@binus.edu
Location:
Binus Angrek Campus, Jl. Kebon Jeruk Raya No. 27, Kebon Jeruk Jakarta Barat 11530, Indonesia.
Profile
Muhamad Aras, memulai karir akademisi (dosen) sejak 2006. Jabatan akademik dimulai dari bawah, sebagai dosen tetap, Sekretaris Jurusan, Wakil Dekan, Sekretaris Senat Fakultas Ilmu Komunikasi, dan Anggota Senat Universitas Sahid Jakarta. Sejak tahun 2014 sampai saat ini Muhamad Aras menjadi dosen tetap di Binus University dengan posisi pertama sebagai Lecturer Specialist S3 untuk Program Studi S1 Marketing Communication. Kini diberi amanah tanggung jawab untuk mengembangkan Program Studi S2 Magister Ilmu Komunikasi (MIK) dengan tugas utama adalah mengurus program studi meliputi kurikulum, koordinasi tenaga pengajar (dosen akademisi dan praktisi), dan mahasiswa demi keberlanjutan dan masa depan Magister Ilmu Komunikasi Binus University.
Disamping tugas tersebut, Muhamad Aras juga sebagai peneliti baik berskala lokal, nasional maupun internasional. Pada tahun 2013, Muhamad Aras dilantik menjadi pengurus Asosiasi Perguruan Tinggi Swasta Indonesia (Aptisi) DKI Jakarta sebagai Ketua Divisi Riset periode 2013–2017. Dan tahun 2015 dilantik sebagai Pembina Ikatan Sarjana Komunikasi Indonesia (ISKI) DKI Jakarta periode 2015-2019.
Research Interests
Research Interests yang digeluti adalah Komunikasi Organisasi, Komunikasi Publik, Komunikasi Politik, dan New Media.
Memberships
Ikatan Sarjana Komunikasi Indonesia (anggota)
Asosiasi Perguruan Tinggi Indonesia (anggota)
Lembaga Pemantau Media Massa (Media Watch) Indonesia (ketua)
Peer-reviewed Journals
Aras, M. (2016), Social Media Phenomenon and Teenagers' Lifestyle Today In Indonesia, American Scientific Publisher, 22, Page: 1670-1672. (Jurnal Internasional Scopus).
Aras, M. (2016), EffectOf The2014ElectionCampaignMaterialIn Increasing Beginner Voters'Knowledge AmongStudents, Pertanika  Journal of Social Sciences and Humanities, 24 (S): 19 – 26 (2016). (Jurnal Internasional Scopus).
Aras, M. (2016), Media Sosial dan Pemilukada di Indonesia (Studi Kasus Penggunaan Facebook, BBM, Line, Twitter, dan Media Sosial Lainnya oleh Konstituen di Kabupaten Muna Provinsi Sulawesi Tenggara, Prosiding Serikat Pers Indonesia (SPS), Cetakan 1, Agustus 2016, Hal. 493-504. ISBN:978-602-96140-6-0.
Irawan, R.E. & Aras, M. (2016), Komodifikasi Berita pada Stasiun Televisi Multiplatform (Studi Kasus pada Program-Program Berita di Stasiun Televisi Net), Prosiding ISKI, Cetakan ke 1, 2016, Hal. 197-203. ISBN:978-602-1054-09-3.
Solatun, D.S. & Aras, M. (2015) Komunikasi Empatetik Pembangunan Pedesaan (Rekonstruksi Emansipasi Nalar Empatetik Model Deng Xiaoping untuk Komunikasi Pembangunan Pedesaan Indonesia, Prosiding LPPM Unsoed, ISBN: 978-602-1643-14-3.
Aras, M. (2014), Kegiatan Goverment Public Relations dalam Membangun Komunikasi dengan Dunia Pers, Jurnal Humaniora, ISSN:2087-1236. Vol.5.No.2, Hal 1056-1065.
Aras, M. (2014), Komunikasi Politik Elit Lokal dalam Pemilukada Di Provinsi Sulawesi Tenggara, Political Communication Institute-Puskombis, ISBN: 978-602-1084-00-7, Hal. 209-224.
Aras, M. (2014), Fenomena Komunikasi Politik, Media Massa, dan Lembaga Politik di Indonesia, Ikatan Sarjana Komunikasi Indonesia (ISKI), ISBN: 978-602-14699-9-6, Hal. 214-236.
Aras, M. (2014), Kegalauan Partai Politik di Indonesia dalam Bingkai Pencitraan (Studi Kasus Pencitraan Politik Partai Politik Peserta Pemilu 2014), FIKOM dan Program Magister Ilmu Komunikasi Universitas Mercubuana Jakarta, ISBN: 978-602-18666-5-8, Hal. 27-46.
Aras, M. (2013), Analisis Terpaan Media sebagai Informasi Pendidikan Bagi Orang Tua dalam Pendidikan Anak di Kabupaten Muna Sulawesi Tenggara, Efektivita, Jurnal Ilmiah Ilmu Komunikasi, Edisi Januari 2013 Vol.2 No.3. Halaman 1-15.
Aras, M. (2012), Proses Komunikasi Politik Partai Politik di Indonesia (Studi Kasus Komunikasi Politik pada Partai Politik dalam Pemilu), Jurnal Ilmu Komunikasi Pascasarjana Universitas Sahid Jakarta, ISSN:1858-2249, Vol.2 No.4. Halaman 48-68.
Aras, M. (2011), Proses Kegiatan Jurnalistik dalam Menyajikan Program Acara di Stasiun Televisi, Majalah Ilmu Sosial dan Ilmu Politik, ISSN: 0853-2257, Jilid 17 Nomor 1. Hal. 87– 106.
Research in Progress
Aras, M. & Salfirda, A. (2016), Semiotic Analysis of Political Communication in Film (The Study of Meaning of Political Moral in Film "Kentut")
Aras, M. (2016), The Process of Political Communication Functions To The Political Institutions in Indonesia (Case Study on Political Parties in the 2014 Election)
Aras, M. (2016), Political Marketing Communication Strategy of the X Political Party in Increasing the Electability of Constituent in the Election in Indonesia
Aras, M. (2017), Pemerintahan Berbasis Kerakyatan Sebagai Manifestasi Komunikasi Politik Dan Demokrasi
Aras, M. (2017), Media Literacy dan Pembangunan Masyarakat Terpencil Di Daerah Kawasan Timur Indonesia
Publication: Books
Aras, M. (2014), Komunikasi Politik Suatu Pendekatan Praktis, Penerbit: Binus Media & Publishing
Aras, M. (2015), Komunikasi Politik Suatu Pendekatan Teoritis, Penerbit: Binus Media & Publishing
Perolehan Hak Cipta-Hak Kekayaan Intelektual (HKI)
| | | | | |
| --- | --- | --- | --- | --- |
| No. | Judul/Tema  HKI | Tahun | Jenis | Nomor P/ID |
| 1 | Komunikasi Politik Suatu Pendekatan Praktis | 2014 | Buku Referensi | C00201404569 |
| 2 | Komunikasi Politik Suatu Pendekatan Teoritis | 2015 | Buku Referensi | C00201600718 |
---